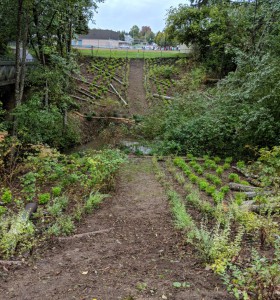 This fall, the Trans Mountain Pipeline maintenance clearing was very thorough, cutting down some fairly large alders behind the high school in West Munday Creek ravine. The replanting has since been done, with more than one hundred native shrubs added. Native rose, huckleberry and thimbleberry will add some nice diversity and wildlife habitat.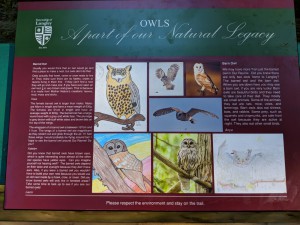 Yorkson ravine behind Gordon Greenwood Elem. recently got a fabulous addition – new information panels with art and research done by Dorothy Peacock Elem. students in Mrs. Woelder's Gr.4/5 class. Check them out!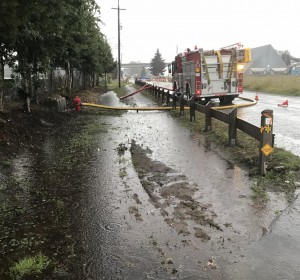 A fire at a wood waste facility in Derby Hills this September may have affected water quality in Yorkson Creek. Chlorinated water used to put out the fire ran into the creek, bringing leachate from the wood piles with it. YWES is following up to better understand environmental protection protocols in an emergency like this one.

YWES volunteers and community members are checking Yorkson and Munday creeks regularly to spot returning salmon! Usually chum and coho spawners return near the end of October or early November. Good viewing locations include McLughan Park, Discovery Town Park and Yorkson Park.
YWES members are submitting questions around the theme of environment to the Township of Langley candidates for Mayor and Councillor in the October 20 election. Check back for the responses and make sure to vote!